Most Popular Categories in Salt Lake City (change)
---
Most Popular Businesses in Salt Lake City (change)
Featured Business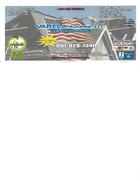 (801) 828-7340
3429 W Picabo St, West Jordan, UT 84129
When it comes to the roof of your property you can count on V&Rroofing for all your roofing concerns
---
What Businesses Are Saying
"I would like to thank the team of people at KSL Local that created the outstanding ad we are now using for our business."
--- Larry from American Engine Installations
Most Recent Review
"I have always been able to maintain a fair level of fitness due to the activities I enjoy. I was never comfortable in a gym setting. As I've been getting older I find my activity level decreasing, my weight going up and strength and muscle were declining. After reading other reviews of gyms I..."
---