Most Popular Categories in Salt Lake City (change)
---
Most Popular Businesses in Salt Lake City (change)
Featured Business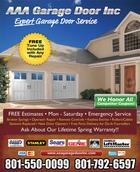 (801) 792-6597
6719 Village Rd., Salt Lake City, UT 84121
Broken garage door experts. 20 Years in business. All makes repaired.
---
What Businesses Are Saying
"KSL Local has been the single most useful way of marketing my business. I have tried a lot of different avenues for marketing and advertising and none of them can compare with KSL Local. The quality and quantity of clients I get from KSL is helping to drive my business."
--- Cedar Hills Construction
Most Recent Review
"I have taken my cat there for a bath and to get her claws clipped. They did a great job and best of all, I love how they handled my cat. It seems that dogs are their specialty as every time I have been there - there are a lot of dogs. Most importantly though, they seem to care about retaining me as..."
---