Most Popular Categories in Salt Lake City (change)
---
Most Popular Businesses in Salt Lake City (change)
Featured Business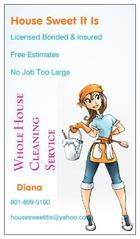 (801) 809-5100
South Jordan, UT 84095
House cleaning and Commercial Cleaning...it is truly our passion.
---
What Businesses Are Saying
"KSL Local is great for local businesses. It keeps money in the local economy!"
--- Preston Judd from Be Locally Seo, Web Design, Social Media
Most Recent Review
"The customer-friendly concept of the FORGE makes it an inviting place to dream, create and buy."
---