Most Popular Categories in Salt Lake City (change)
---
Most Popular Businesses in Salt Lake City (change)
Featured Business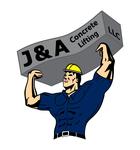 (801) 477-5220
428 W 1860 S, Lehi, UT 84043
Sunken Driveway or Sidewalk? We can help! Don't pay the high price of replacement, Lift it instead!
---
What Businesses Are Saying
"My Featured ad pays for itself in the first few days of the month and the rest is all gravy:"
--- Jeff, owner of A-1 Reliable Garage Doors
Most Recent Review
"I was taken by this guy. He gave me a quote and did not do the job. First of all he asked to be payed on Pay Pal before even doing the job. I came home to see that the grass had been mowed very sloppily. We have a park way on the side and front of or house and those areas were not touched. I feel I..."
---