Most Popular Categories in Salt Lake City (change)
---
Most Popular Businesses in Salt Lake City (change)
Featured Business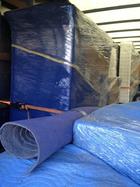 801.953.9147
6922 ASHBY WY, salt lake city, UT 84104
*****NEED SOMETHING DELIVERED????BOOK WITH US**ALWAYS SAVING YOU TIME AND MONEY****
---
What Businesses Are Saying
"I highly recommend KSL Local advertising for any existing or new business services. The interface is easy to use, and I especially like the customer review feature."
--- Mark Jeffery Photography
Most Recent Review
"Kimball Roofing is the worst company to deal with, Dean Kimball is shady, he tried to bully us into paying for additional services we didn't request and threatened us with a lien if we didn't pay. This company and particularly Dean Kimball is known to have bad business practices and has been..."
---