Most Popular Categories in Salt Lake City (change)
---
Most Popular Businesses in Salt Lake City (change)
Featured Business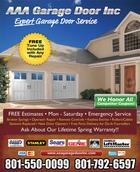 (801) 792-6597
6719 Village Rd., Salt Lake City, UT 84121
Broken garage door experts. 20 Years in business. All makes repaired.
---
What Businesses Are Saying
"Since starting our ad with KSL Local we have notice a large increase in both requesting quotes for various jobs as well as an increase in the amount of jobs we are doing at each week which is very good for our business."
--- Larry from American Engine Installations
Most Recent Review
"After providing a crude drawing of our appliance to our contact (because she didn't know what we were talking about ), the contact didn't proceed to do any type of research and went off our crude drawing of what it would look like. The granite of course didn't fit. They wanted to charge us for..."
---