Most Popular Categories in Salt Lake City (change)
---
Most Popular Businesses in Salt Lake City (change)
Featured Business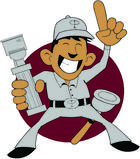 (801) 763-7835
Utah County, Salt Lake County, Davis County, Park City, Anywhere, UT 84058
Quick Quality Plumbing is Your Lifeline to Great Plumbing Solutions. Open 24 Hours 7 Days A Week.
---
What Businesses Are Saying
"I have so many competitors, it is hard to get work, but KSL Local has really help me get the business I need!"
--- Rushley from Beckstead Landscaping and Snow Removal
Most Recent Review
"These guys are simply the best, and the fairest. Hard working, unobtrusive, nice people and respectful. They go way beyond the call of duty.They taught me things about some of my bushes, I didn't know. They did more than was asked. I cannot say enough good things about their work, the understandin..."
---