Most Popular Categories in Salt Lake City (change)
---
Most Popular Businesses in Salt Lake City (change)
Featured Business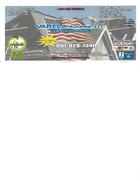 (801) 828-7340
3429 W Picabo St, West Jordan, UT 84129
When it comes to the roof of your property you can count on V&Rroofing for all your roofing concerns
---
What Businesses Are Saying
"I have been using KSL for many years for all my advertising. I think KSL Local is amazing!"
--- Tracy from Grandma's House Child Care.
Most Recent Review
"Heather stated we paid for 3 hours of cleaning which was $100 she had a girl come and do the job the lady only clean refrigerator and wiped down a view cabinets told the lady to get the wax stain off the wall didn't even wiped that down. In what world does it take 3 hours to clean a refrigerator...."
---