Back to listings
1st Choice Emissions Inspection
5310 S State St
Murray, UT 84107
Business Details
Description
We are Utah's Auto Experts with more than 50 years of experience repairing automobiles. We offer complete service and repair on all makes and models. We take great pride in doing good work. Some of the service and mechanical work we do are: diagnostics, check engine light, IM and Safety Inspections, electrical diagnoses, brakes, and much much more. Call anytime for free estimates. We are very thankful for your business and value our customers.
---
Hours of Operations
Monday - Friday 9:00am - 6:00pm
Saturday 9:00am - 5:00pm
Coupons (1)
Reviews (3)
Write a Review »
Dishonest, Not Professionals, Scammers
by
User37634

on

Had to go twice for them to be able to fix my rotors and brakes. They fixed once but the car was vibrating crazy when the brakes are pushed. They quoted me $950 to fix my borken controls arms $810 for parts and $140 for labor. The parts are $100 in 3 major part stores Napa, AutZone, and Checkers. How is it justifiable to sell someone a part that cost $100 for $405? They do oil change but do not lock the filter right and you end up having oil leak and when the car gets hot you smell burning oil and smoke come out from your car. Their service is a scam and I am sure so many other people are complaining about this business. Please avoid this place at any cost!!!
LITTLE SHOP OF HORRORS
by
User66043

on

I mistakenly came into this LITTLE SHOP OF HORRORS for their $19.99 oil change. I returned to get my emissions and safety tests completed. But the old man/owner said that I didn't have to do it this year. One of his mechanics offered to submit my information to the State and then provide me a decal sticker. I gladly accepted because since I was a previous customer, I thought he was offering "good" customer service. The old man gave me the decal sticker and he said I owed him $10.00. I said he never told me about the fee and that I could have done this online for FREE. I said he was DISHONEST. He became angry and demanded that I leave. I see that he responded below by absurdly asserting that he had refunded my $10.00 to me. I NEVER received a refund. I never got anything for "free" as he had falsely stated. People should Google this company and they will find numerous complaints against them. This company has proven that they are DISHONEST and SHOULD NEVER BE TRUSTED!

Owner response: At 1st Choice we strive to meet our customer's needs related to providing quality automobile services and repairs. This customer was informed about the $10.00 fee for us doing the renewal where she would immediately receive her sticker. When she asked if we could do a renewal for her, she was informed of the $10.00 charge for the service. She authorized the service, but after it was done and her car was re-registered with the State, she refused to pay the 10.00. She was inform because of the State of Utah we could not reverse the transaction. So, she became verbally hostile to our employees, so out of good faith we refunded the 10.00 in cash. So she did not pay anything for this service. Sometimes, in a few instances the customer is the dishonest party, and it is usually the customers trying to get services for nothing that indulge in bad behavior such as this customer. Also, it is usually these customers that complain. This person is providing false information to you the consumer.
New Brakes
by
User58523

on

I was having trouble with my brakes. I stopped in to 1st Choice Emissions to get them checked. I had an answer and repairs done in just a few hours. I would recommend others checking them out. The have great prices on services and repairs.
Map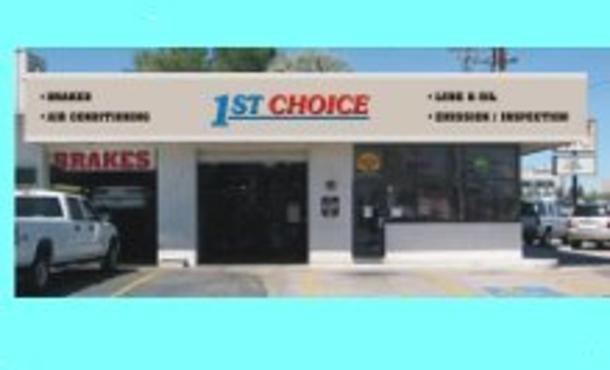 ---