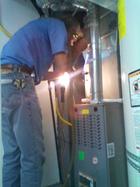 Daniel Smith Heating And Air Conditioning
801.572.1621 | Email Us
Serving Salt Lake, Utah County, Weber/Davis, Park City areas
Text me deals from this business
1

Review »
Write a Review »
664 Page Views
---
Business Details
Description
~ Furnaces
~ Air Conditioning Units
~ Unit Heaters
~ Electric Furnaces and Heat Pump Systems
~ Minor Hydronics
~ Duct System Design
~ Custom Sheet Metal Fabrication
~ Electrical Diagnostics
~ Humidifiers
~ Exclusive Air Filteration Systems
~ Free Bids on new equipment intstallation
 Smith Heating and Cooling can help you with all of your residencial and light commercial heating and cooling needs. Smith Heating and Cooling has technicians that are trained, certified, licensed and insured. Our technicians have been in the field since the 1980's. When you call, your get the owner. There is no run around and no up-sales pressure like our larger competitors. We feel that with our fast and thorough diagnostics, we can gain your respect and trust. Mention this ad when you call and receive 10% off of all labor charges!
Coupons (1)
Reviews (1)
Write a Review »
Great Service!!!
by
User104281

on

Back in July my AC stopped working. I had Smith Heating and Air Conditioning take a look. There was a fried contactor on my condensing unit outside. It took them all of 15 mins to change the part and have my AC running again. They were very reasonable in what they charged and very professional. Then last month my furnace quit working. I was thinking the worst and worried about the expense. I gave them a call just to get an estimate of what it would cost to fix. Jeremy showed up within an hour or so, opened up the furnace and told me the problem was a dirty heat sensor. He showed me the part that was dirty and explained to me how it worked and why it was causing my furnace to malfunction. He cleaned it and my furnace worked great! When he gave me the invoice I was shocked. He didn't even charge me for labor and there weren't any parts. Just the trip out. He could have told me it was anything. I wouldn't have know the difference. These guys honest and do a great job!!!
---