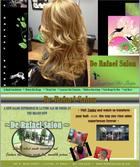 De Rafael Salon
801.759.6239 | Email Us
707 N. Main Street
Layton, UT 84041
Text me deals from this business
3

Reviews »
Write a Review »
1,568 Page Views
---
Business Details
Description
★ 
★ 
★  We want you to get to know our talented crew of stylists, our reality-show-ready talent and creativity, our shockingly reasonable prices....the best salon of Layton has just landed. 

.... De Rafael Salon .... and Layton hasn't seen or experienced a hair salon like this yet!

Superb talent meets style and flair with unbelievable prices that compete, and beat, even the generic salons we are all so used to settling for. 

 * * * * * * * * * * * * * * * * * * * * * * * 

★  
★  
★ ~ !~ ! Grand Opening ~! ~ ! 
★  
★  
★  *****  All day and night on Friday the 13th of January, 2012. Don't miss out~! Killer deals on feather extensions, haircuts, fade designs for the guys, food and drinks and fun!! We would love to have you there! Bring in a picture of your favorite celebrity and celebrate with us for the grand opening of our new salon De Rafael Salon, and POOF~!!! You'll walk out with your favorite celebrity do' for the best price.



★ ALSO - We have gorgeous, brand new booths available for rent. We are looking for talented stylists, massage therapists and permanent make-up experts, nail technicians....Call Rafael @            (801) 759-6239       for an appointment to come in an interview! WE ARE HIRING IMMEDIATELY for the right person ~! 

Reviews (3)
Write a Review »
Rafael is BEYOND amazing
by
User51484

on

I am so glad he finally opened his own salon! Rafael is the next Jose Eber...he's so talented. His salon is beautiful and his prices are the same as any cookie-cutter salon out there. I highly recommend trying him out! From a happy, long-time client.
LOVE it
by
User110062

on

I LOVED this place. They were really kind, understanding, and hilarious! Plus, the pricing is exceptional for what you're getting. I got my hair colored, and it turned out better than expected for a wonderful price. I definitely plan on going back.
Very poor customer service
by
User108971

on

This salon is in need of a Tabatha takeover.... A family member was visiting and requested to get a haircut during their stay. I made an appt and we were there a few minutes early. We waited a few minutes to find out the owner was still on his way. We continued to wait and I finally asked if we had time to get our eyebrows done next door. We returned after 20 minutes and he was still not there. I had to ask someone for an update and I was told that they were going to call him. The response I received was that he would be there soon but we weren't given a timeframe. Finally by 1230 the owner arrived. We were not even addressed until he came over to ask if we could wait longer while he styled another client. At that point we decided to return later, we were told we could come back later at any time. When we returned we were very rudely greeted and was given an attitude by the owner. I have no plans to go here in the future. If this business is going to survive they need to do better!
Click for Larger View
Images
---