Find local services, events, restaurants and much more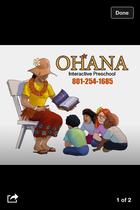 Ohana Interactive Preschool
(801) 254-1685
1530 West 12600 South #4
Riverton, UT 84065
Text me deals from this business
0

Reviews »
Write a Review »
208 Page Views
---
Business Details
Description
Why would you enroll your child at 'Ohana Interactive Preschool?'



At Ohana we believe that 'Play' is a child's work.



When they are feeling safe and having fun children are learning.



We have a curriculum that uses a multi-sensory approach.



Children learn well when they are using as many senses to learn new concepts. At Ohana Interactive Preschool we have worked hard to produce a visually stimulating environment with visuals, songs and music (auditory), and art projects for tactile learning (kenesthetics) helps them to remember and recall what they are learning in a fun and exciting way.



When children's senses are immersed in learning their letters, phonics, writing, numbers, colors, shapes, seasons, weather, health, hygiene, etc., with music, art, games, and hands on projects they retain what they are learning better and are excited to learn more.



At Ohana, play is an important part of learning to socialize with peers. As your child socializes with their peers we want them to learn to discover their talents and uniqueness within themselves and their classmates. By honoring the differences in others they socialize with, they will learn social skills of: taking turns, treating others fairly and kindly, respect others, learn to get along with others and to express their needs.



Come take a tour of the preschool 'This Is', the preschool for your child.



---
Hours of Operations
Monday - Friday 8:45am - 3:30pm
---